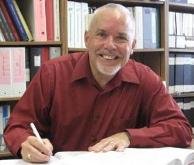 Timothy Bormann, CIH, FAIHA
Tim Bormann is Vice President of The Cohen Group, where he has been employed since 1984. He has over 30 years of experience as an occupational health and safety professional.
Tim graduated from University of California at San Diego with a BS degree in biology/physiology and a minor in chemistry. He has been certified by the ABIH in the comprehensive practice of industrial hygiene. Tim also was a California Certified Asbestos Consultant and an EPA accredited asbestos inspector, management planner, supervisor and project designer from 1992 through 2022. In 2012, Tim was presented the Fellow Award by the American Industrial Hygiene Association for his contributions to the practice of industrial hygiene.
Tim has conducted hundreds of inspections and audits for employers in such diverse workplaces as the performing arts, prisons, food manufacturing, healthcare, and construction. He has served as the project manager for several multi-million dollar projects involving the remediation of contaminated building materials. He is frequently asked to conduct employee and employer training programs. Tim frequently serves as a consultant and expert witness to attorneys involved in civil cases pertaining to negligence, toxic torts, Workers Compensation appeals and OSHA appeals in both health and safety matters.